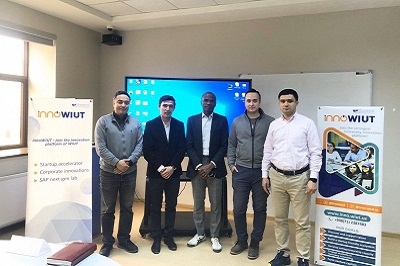 On February 04, our team InnoWIUT Entrepreneurial Lab of WIUT with Uzbekistan Venture Capital Association sponsored the TUZ Ventures Pitch Day Event, which focuses on introducing startup projects to foreign investors and share their innovative ideas with the crowd. The event was invitational which approximately lasted six hours and only following group of individuals were invited: startup teams, foreign investors, mentors and professors. During the pitch day, investors and mentors shared opinions, thoughts, innovative secrets and suggestions with startup teams on their current startup ideas.
InnoWIUT's director Aziz Ochilov and acting director Sarvar Djalalov were on hand to open the event and introduce our innovative lab where we help our students with their entrepreneurship skills, abilities to generate new ideas, help with their business related materials and business plans. In addition, our helping senior lecturer Mr. Waqas Ahmed was also assisting our startup teams with wise advices and effective suggestions.
The keynote speaker was our foreign investor Mr. Herve Edongo from TUZ Ventures. Mr.Edongo shared his knowledge with Uzbekistan's young startup enthusiasts and spoke about how to effectively attract investors and promote startup ideas and promote projects to higher level. Our guest also mentioned that attended seven startup teams were very innovative and demonstrated high level of interest in entrepreneurship industry.
Our event also had discussion session where startup teams had opportunity to discuss their ideas and upcoming plans with our partners, investors, fellow colleagues, mentors and with InnoWIUT team.