We help you with your business to succeed!
Let our innovation knowledge help you to stay sustainable and competitive in business market!
Fields of Activities
We work mainly in three direstions such as:
Program to motivate, guide and facilitate students' startup initiatives.
Discovering strong innovation teams of student and connecting them with large corporations and SMEs to offer innovative solutions for business.
Training program for students with skills for digital futures, showcase startups with corporations seeking to seed in disruptive innovation, and connect students with companies recruiting next-generation leaders.
11
Provided Business Events
Feel free to browse our events section, where you can find our interractive business events and explore more in depth.
Special Webinar: Developing Fintech in Central Asia
Eurasian Investor is bringing together a stellar panel of founders and investors for a webinar that will examine how fintech is transforming consumer and enterprise financial services across Central Asia. 
The webinar will take place on Thursday 8 October at 10:30 to 12:00 BST (11:30 to 13:00 CET). 

The speakers will discuss how frontier economies in Central Asia are adopting fintech, in many cases "leapfrogging" typical stages in the digitalisation of financial services. The webinar will explore Central Asia as a growth market for the world's leading fintech platforms, as well as the potential for the region's nascent startup ecosystem to develop local champions and to enable to digitalisation of banks and other businesses. The panel features:
Simon Vans-Colina, CTO, Fronted.rent
Hussein Badakhchani, CTO, Ziglu
Kiyan Zandiyeh, CEO, Sturgeon Capital
Dilshod Zufarov, CEO, Uzbekistan Venture Capital Association
Louis Skyner, Chairman of the British-Uzbek Society
The webinar will be conducted via Zoom. To confirm your participation, please register by clicking the link below: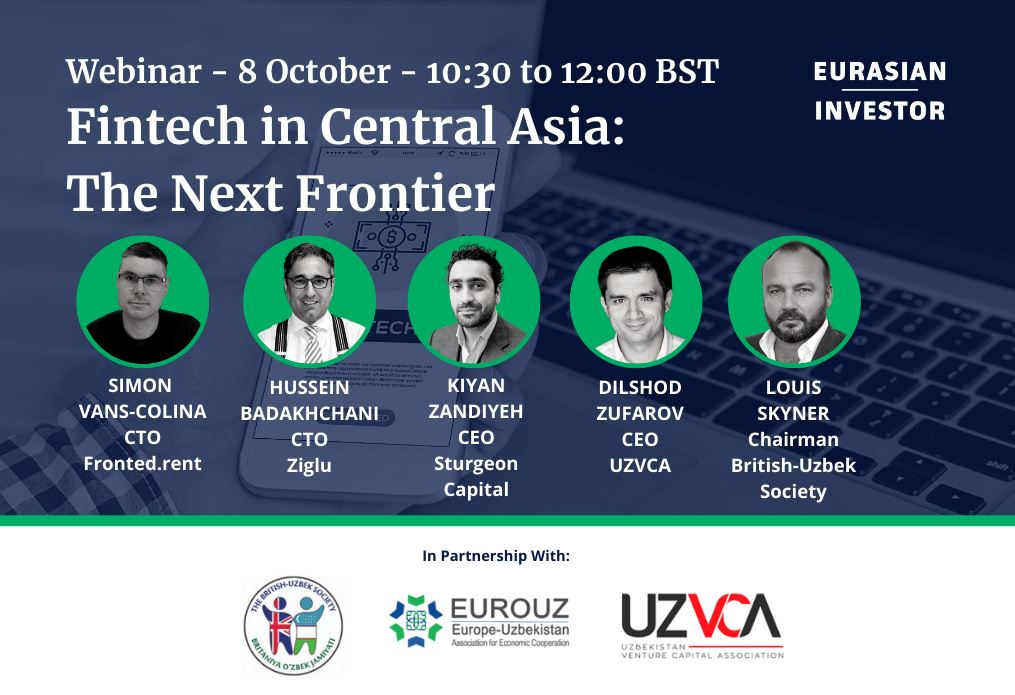 We have a WINNER of COVID-19 CHALLENGE 2020!
Among 5 projects our WIUT Alumnus Jahongir Pulatov (Class of 2018) the founder of cambridgeonline.uz (Modme) platform became a WINNER!

COVID-19 CHALLENGE 2020
An online competition of innovative tools and solutions for mitigating the consequences of the COVID-19 pandemic, where innovators from all over Uzbekistan were able to collaborate and create innovations, combine knowledge, technology, and entrepreneurial skills to help those who were affected in one way or another by the COVID-19 Pandemic!

The TOP 5 selected projects are being supported by financial contributions of up to US $ 10,000 provided by partners for testing and further implementation of the proposed technological solutions. Selected projects will also be widely represented on other platforms.

The project cambridgeonline.uz (Modme) platform is a B2B product that is maximally adapted for educational institutions and synchronizes with offline learning (i.e. it makes it possible to smoothly switch from offline to online modes if necessary). The platform allows educational institutions, and tutors with no experience in technology to conduct online lessons in Tas-ix and provide a wide range of functions for monitoring the learning process.

Jahongir also adds: ''WIUT played a significant role in my business journey. University's atmosphere, culture, teaching methodology, business subjects and flexible schedule helped me to develop my leadership skills and have a business mindset."

innoWIUT Entrepreneur's Lab of WIUT was one of the member of expert's team of COVID-19 Challenge 2020, participated in evaluation of projects, and actively supported this challenge among students and staff of our university. Our vision is to inspire, guide and facilitate young enthusiasts in innovative entrepreneurship by forming the strongest teams and connecting them with industry leaders from Uzbekistan and across the region.

We congratulate Jahongir Pulatov and his team with a great victory and we wish continuous prosperity!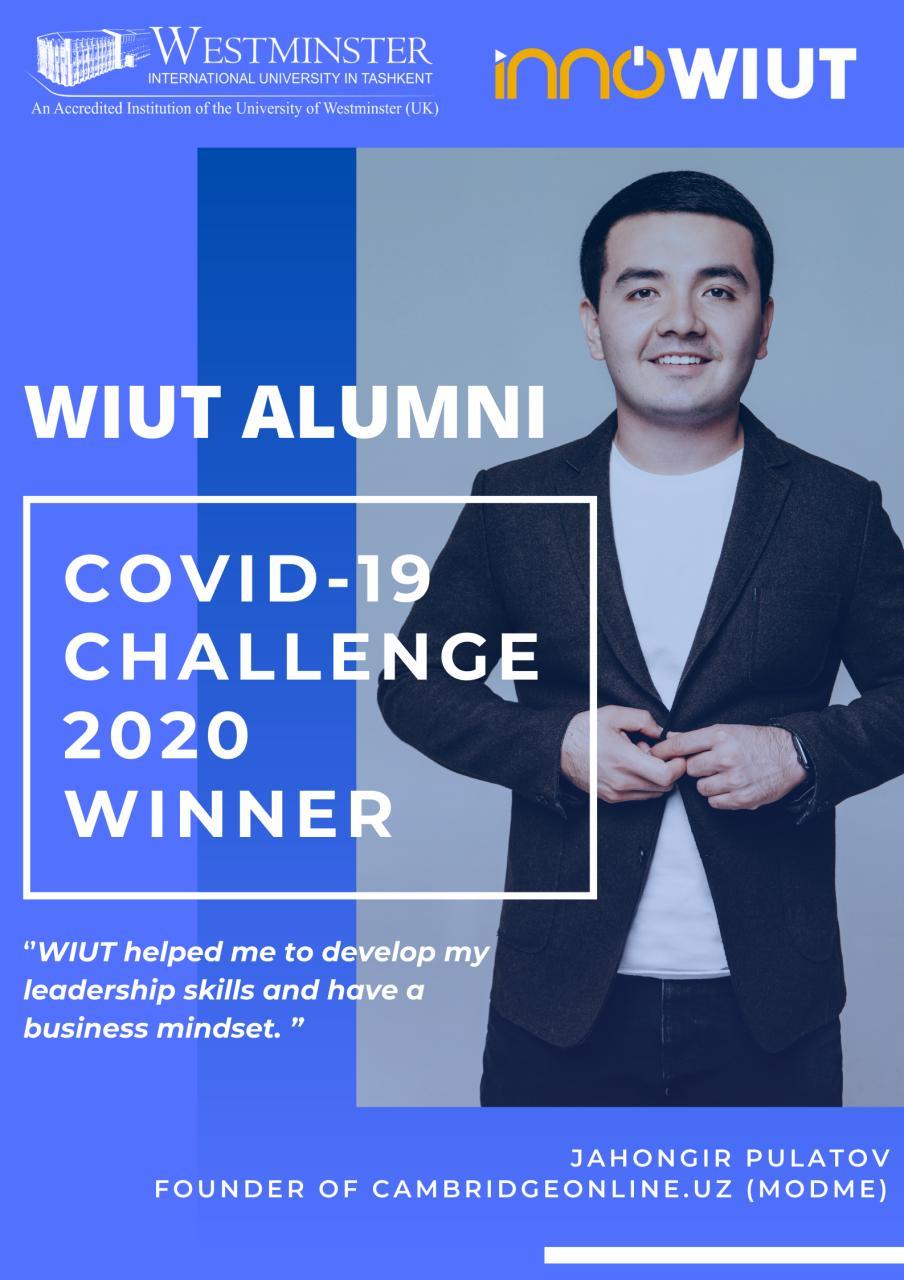 International Online Hackathon World AI & Data challenge in Uzbekistan!
We refresh your memory and remind you that within the framework of this competition, an online data-hackathon will be held for the participants from Uzbekistan, for the first time.

To participate in the hackathon you need to:

➖ Register on the site: https://leader-id.ru;

➖ Submit an application at the link: https://leader-id.ru/event/51894/;

➖Follow the emails from us not to miss the instructions.

Well, and participate in the hackathon on June 27-28, where you will develop solutions for the global problems of humanity (both with the team and on your own!) With experts in the field of artificial intelligence and open data.

 According to hackathon results:

➖Modify your decision and go through acceleration;

➖ Implement your solution internationally and get prizes

Learn more: https://clck.ru/NxB2n

If you need our advice & mentorship, you can email us at any time inno@wiut.uz!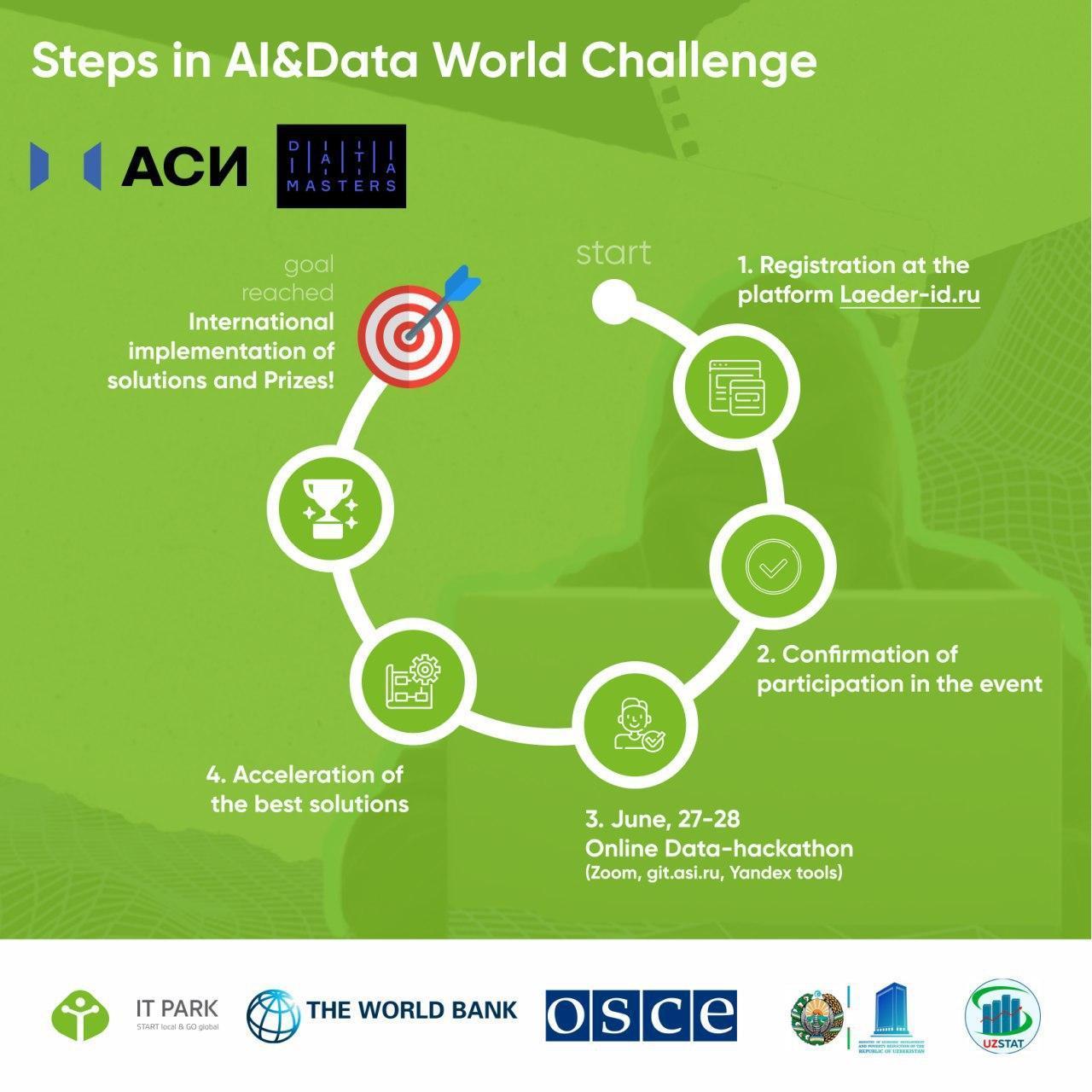 The Global Business Challenge 2020
This is the competition for undergraduates and doctoral students studying in the field of Business or Technology.

The aim of the competition is to develop new and sustainable solutions that contribute to the restoration of resources and the development of a circular economy. The competition will be held in two rounds.

1️⃣ Round is a virtual round consisting of a virtual pitch (presentation) and a 5-page summary of the proposed "conceptual solution".

2️⃣ Round (Final) includes an intense weekly round taking place in Brisbane, Queensland.

? Total prize fund of AU $ 125,000 (Australian Dollars)

⏳ Deadline for Round 1: August 28, 2020

✅ For more info visit: https://bit.ly/3ecaFSA  

? If you need advice, consultancy or help, feel free to contact us! We are here to help you! inno@wiut.uz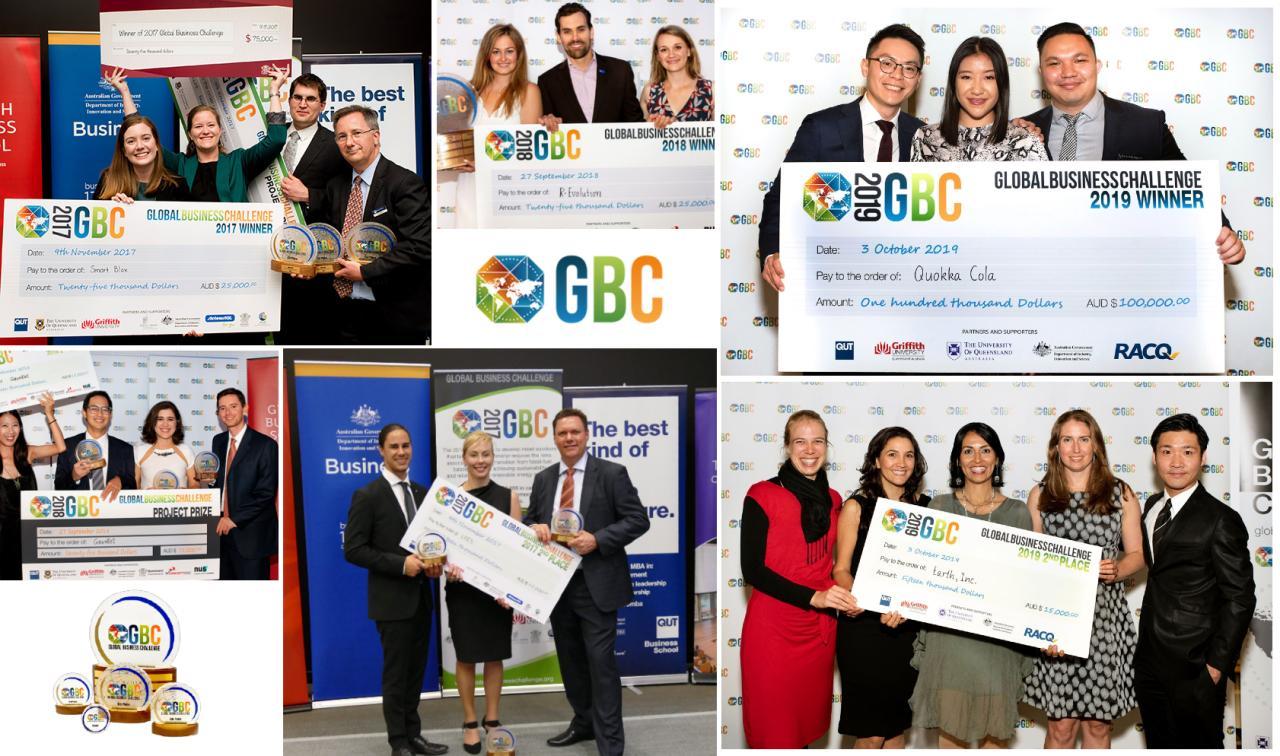 Alibaba International Competition "Alibaba GET Global Challenge 2020"!
Competition dedicated to business solutions to make life easier during difficult times of a pandemic.

Alibaba GET, together with China Campus Network, IT Park, Uzbekistan Youth Entrepreneurship Support Center, Start-up Initiatives and Accelerator Lab, UNDP are pleased to invite start-up projects related to IT from Uzbekistan to participate in the Alibaba GET Global Challenge 2020 competition!

The main prize is $ 15,000 and a fully paid trip to Alibaba head office!

Deadline for submitting applications for the competition: May 21, 2020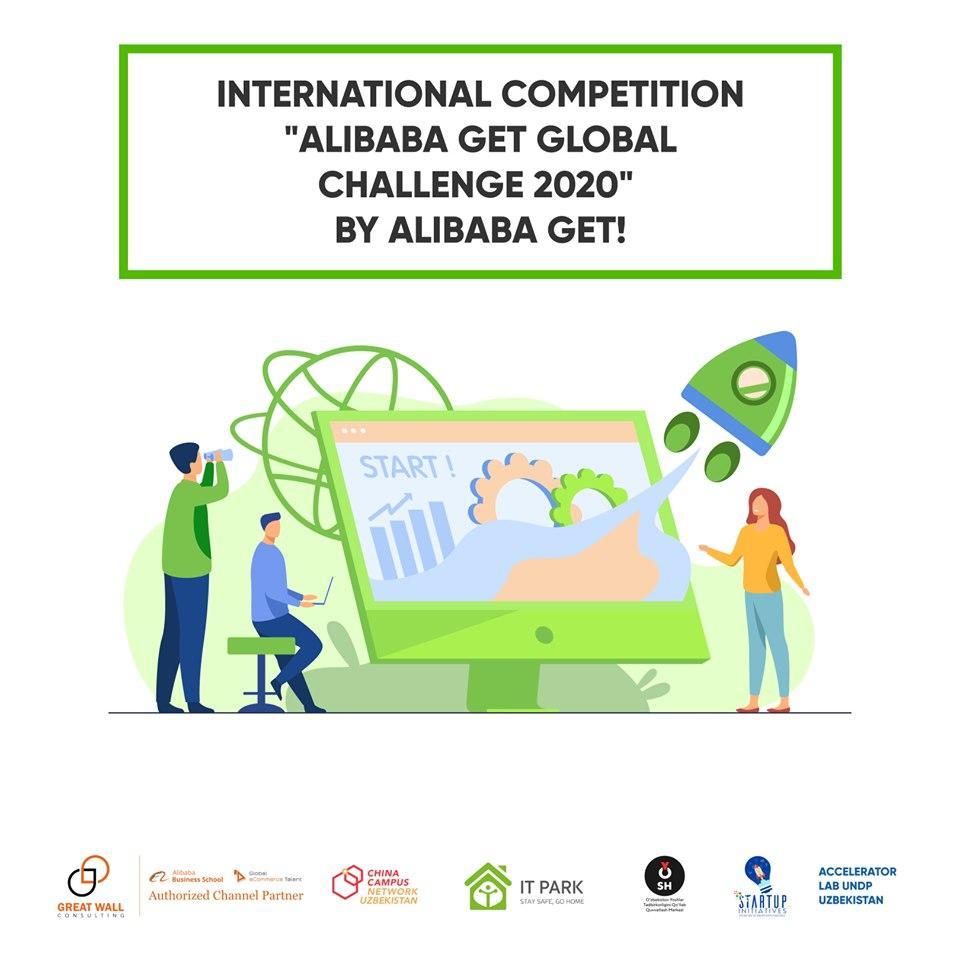 SAP Online Courses
As of now we have a special offer for WIUT students to use SAP professional courses and complete FREE of charge one certification 100% in online distant-learning format.

To help run the student's lives better we provide for 90 days access to:

Enablement content as described in the Learning Journeys.

- SAP S/4HANA Scope and Business Processes
- SAP S/4HANA Cloud – Finance
- SAP SuccessFactors Employee Central
- SAP HANA Modeling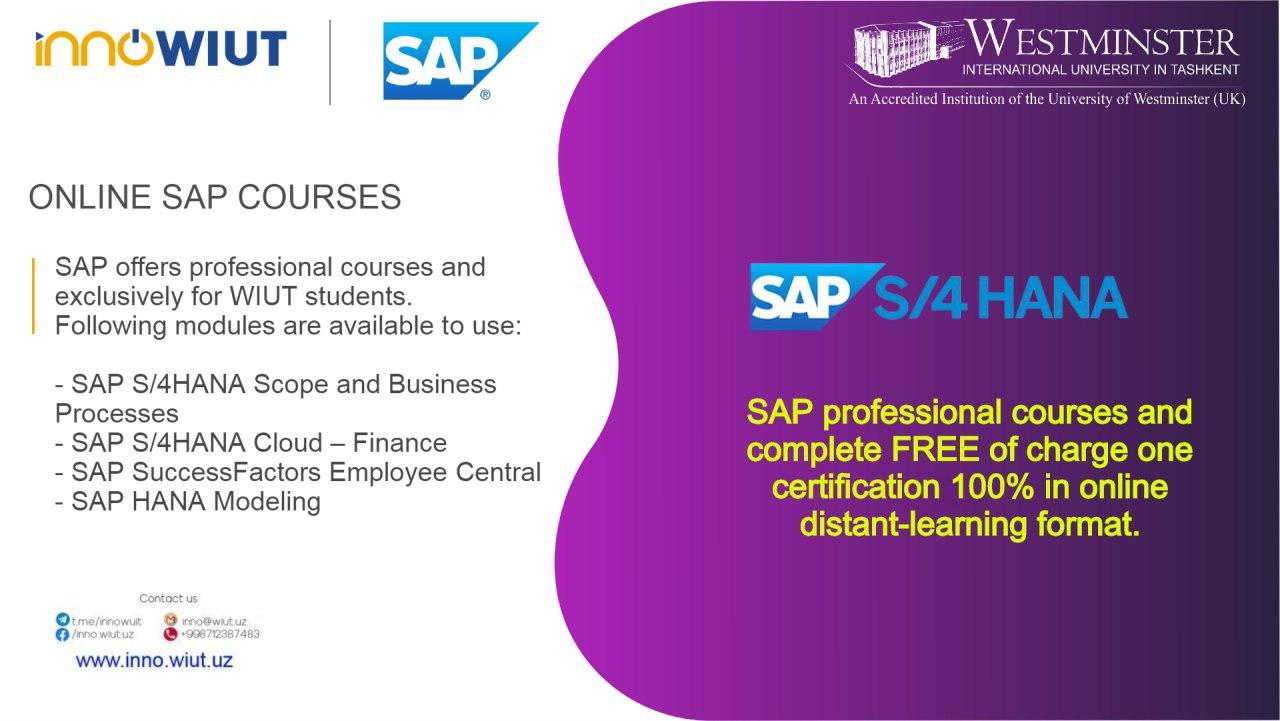 Creative Spark - Big Idea Challenge 2020
In collaboration with British Council, London Metropolitan University & WIUT LRC we are organizing "The Big Idea Challenge" startup contest.

The categories are:

- Digital technology
- Social impact
- Creative

Win up to £3,000 in grant funding and other prizes!
Button Text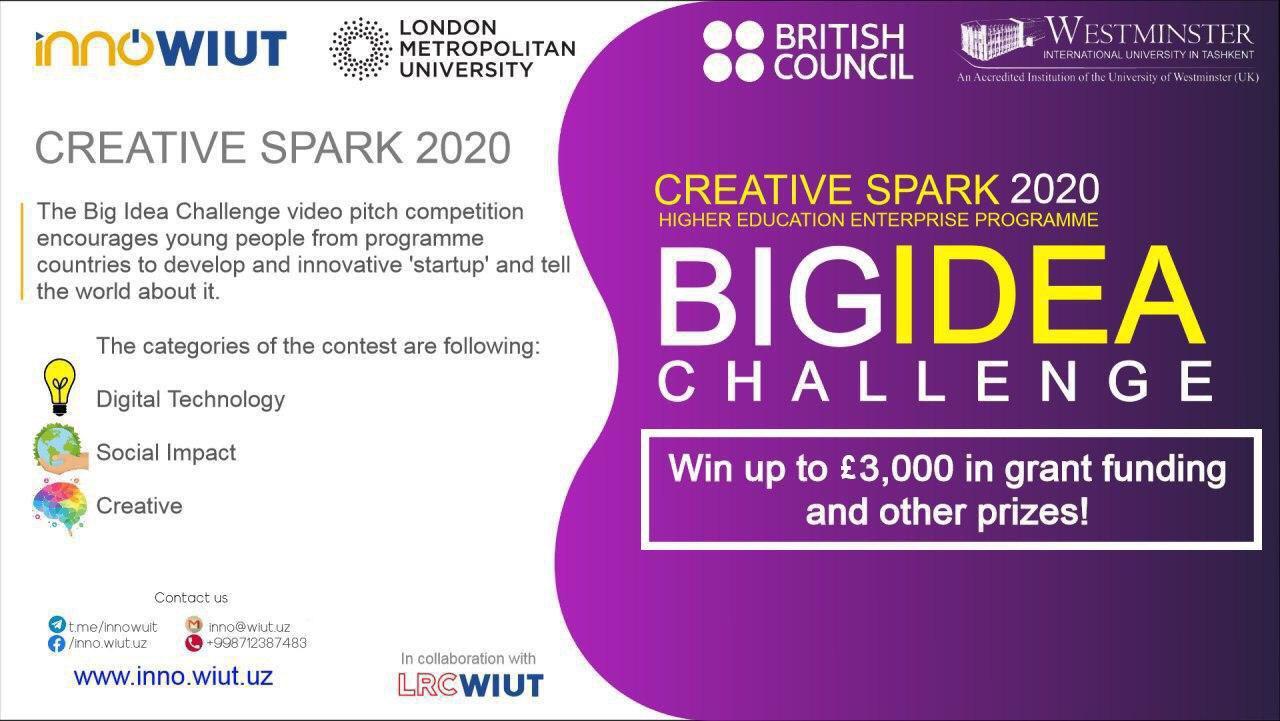 #EUvsVIRUS Pan-European Hackathon
The European Commission, led by the European Innovation Council and in close collaboration with the EU member states, will host a pan-European hackathon to connect civil society, innovators, partners and investors across Europe in order to develop innovative solutions for coronavirus-related challenges.

Now is your chance to help tackle coronavirus!

- When? 24, 25 and 26 April

Join Now & Save Lives!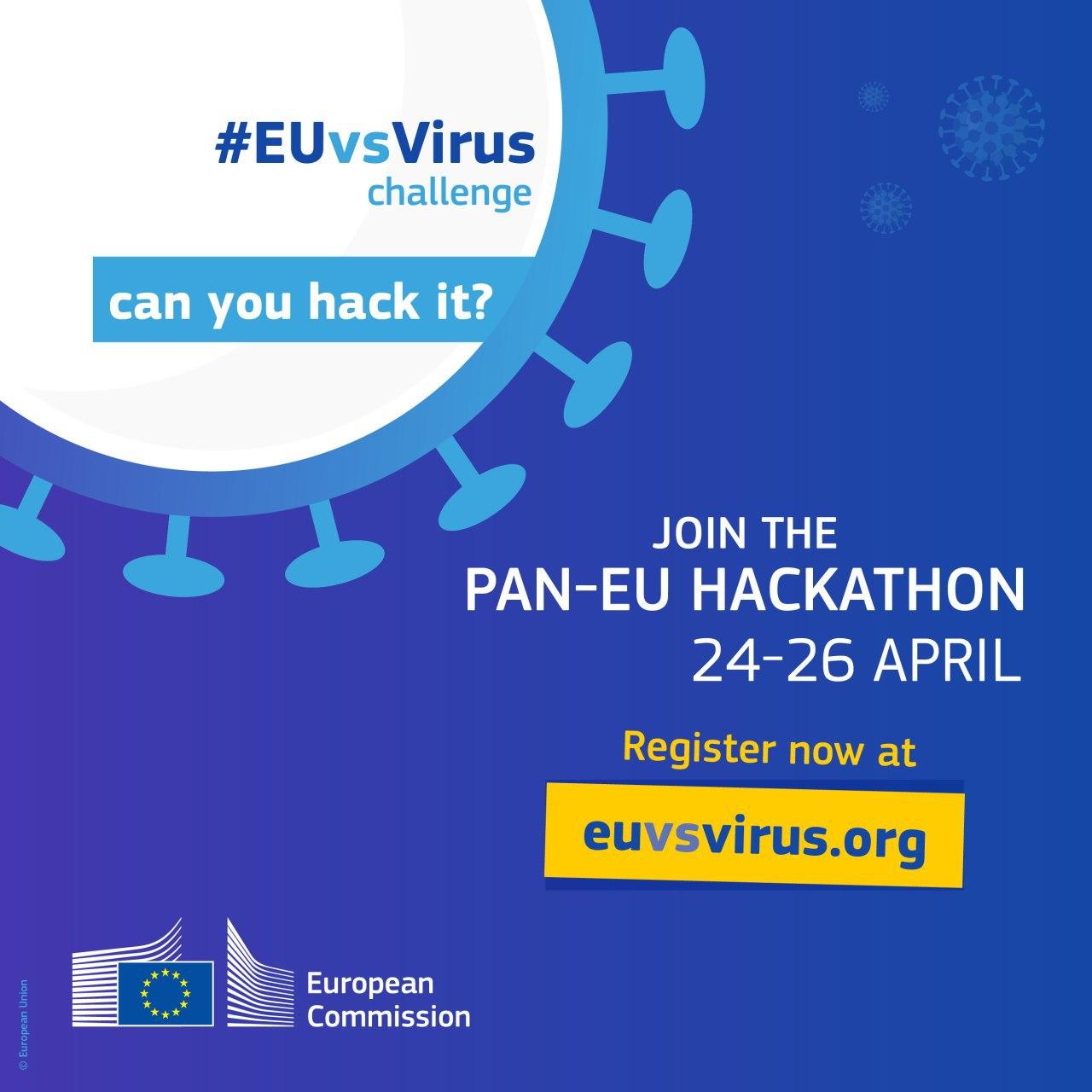 #innoLECTURE - Founder of Caravn Group: Timur Musin
innoWIUT Entrepreneurship Lab in collaboration with Career Centre is organizing innoWIUT Guest Lecture!

Our guest is Timur Musin one of the famous restaurateurs of Uzbekistan and founder of Caravan Group, Entrepreneur, Developer & Chairman of the Association of Restaurateurs and Hoteliers of Uzbekistan.

The topic of our session is "Innovation and Technology of Caravan Group: Past, Present, Future".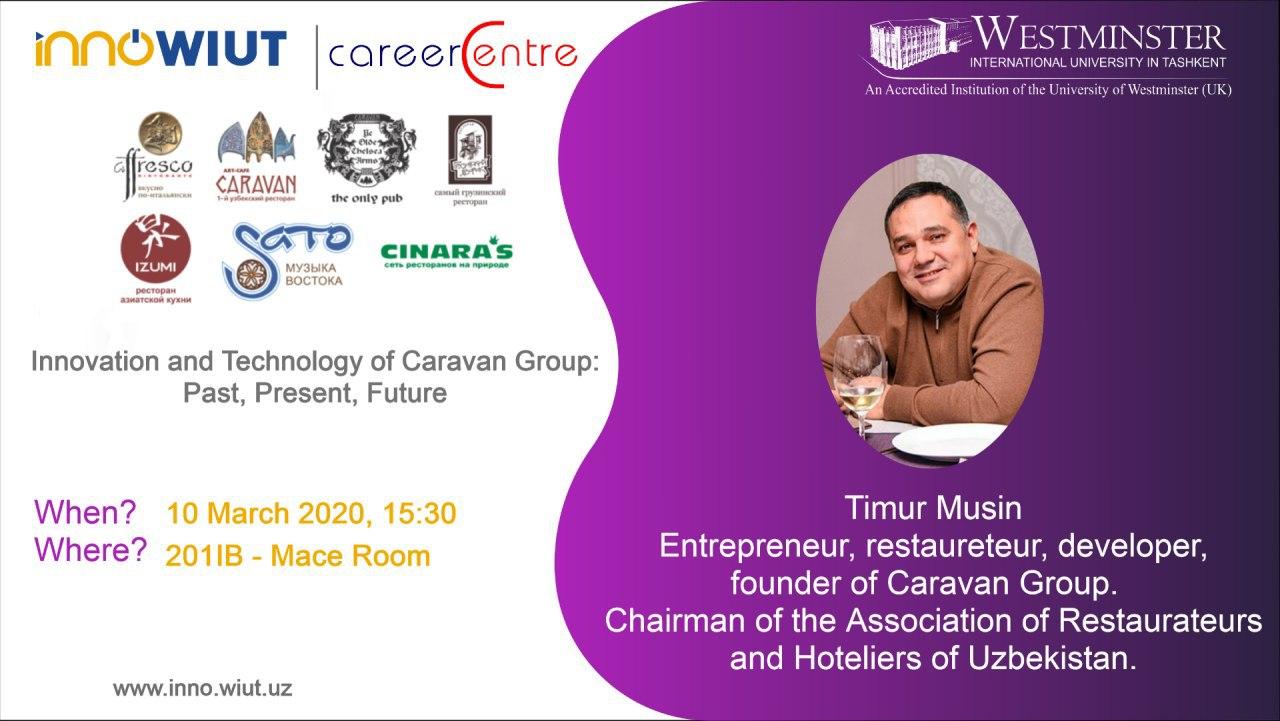 #innoTRIP - IT PARK
We are organizing innoWIUT Field Trip to IT Park Uzbekistan.

You will have a chance to explore and learn about following:

IT PARK Academy
Co-working and IT zone
Incubation and Acceleration Programs
Special trip for only WIUT Students

When?
4 March 2020, 14:45PM

Where?
IT Park [4, Tepamasjid str., Tashkent]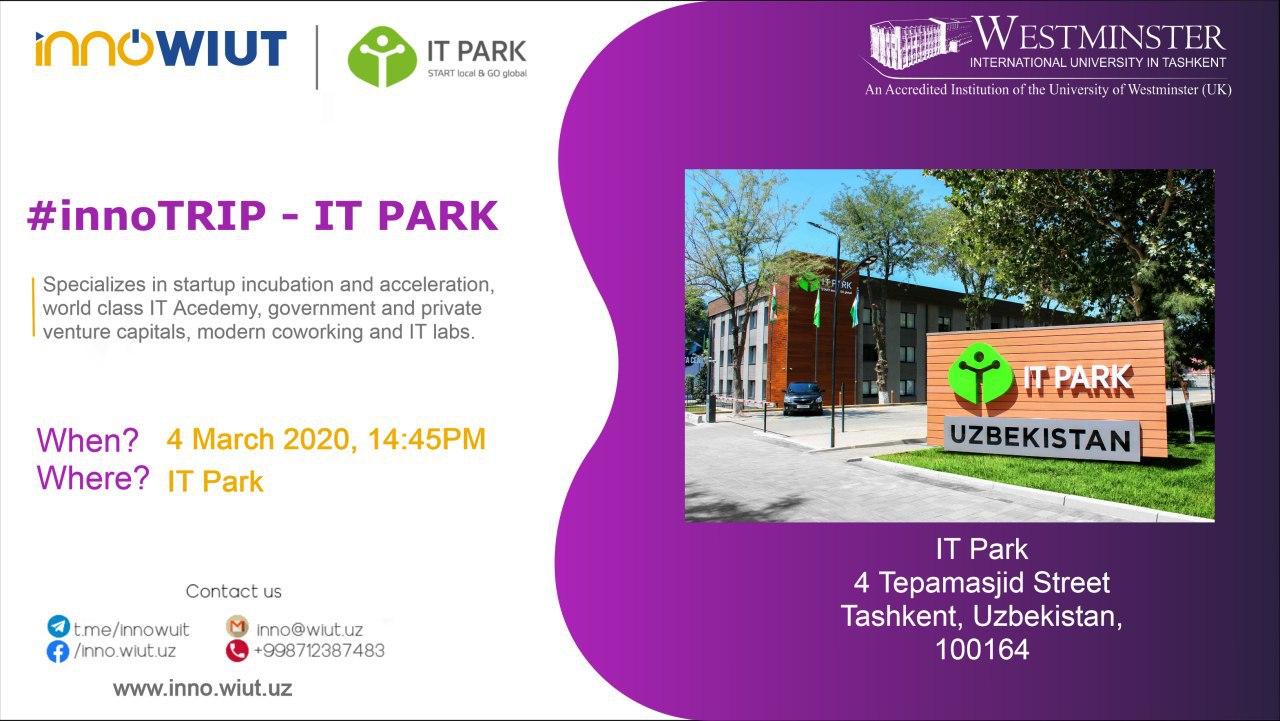 #innoPITCH 2.0 - Ramesh Haridas I UZVCA
Are you looking for an investment for your startup project?

UZVCA (www.uzvca.uz) (Uzbekistan Venture Capital Association) in partnership with Westminster International University in Tashkent organizing pitch day for potential projects.

Ramesh Haridas, who has started and sold 3 internet companies, one was acquired by Google

Mr.Haridas typically invests $25-$300k in young companies and he is going to share his personal experience and provide you with main tips "How to get funded from investor angels?"

Come to Pitch Day 2.0

DATE: 25 Feb, 2020
TIME: 12:00PM
VENUE: Westminster International University in Tashkent (Room: ATB-207)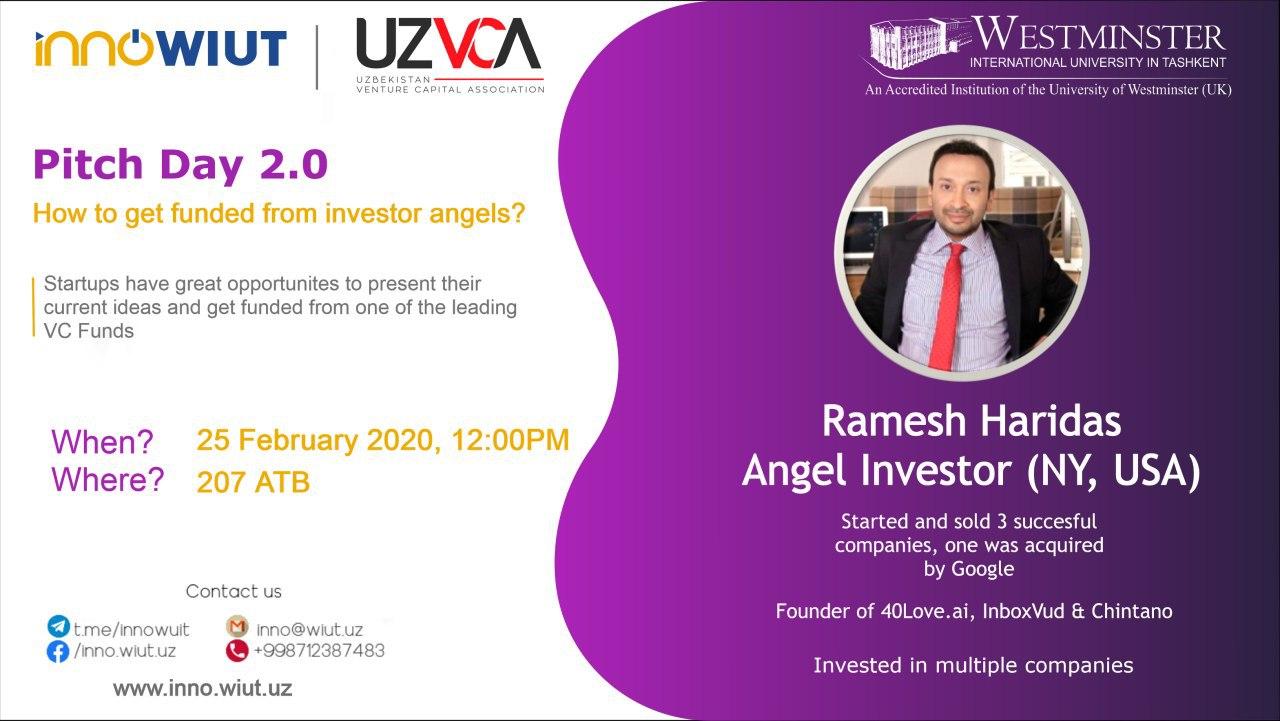 #innoGAME - Entrepreneurial Thinking
We are launching innoWIUT Business Game in cooperation with our colleagues from University of Calgary (Canada)

The game called "Entrepreneurial Thinking" this is an amazing chance for our students to feel and explore entrepreneurship world. Moreover, students will have great opportunity to learn and gain more knowledge in the field of business.
Be a part of this event and contribute your talent!

Remember: only 25 students will be select!
Hurry Up!

When? 13 February 2020, 9:00AM
Where? 207ATB innoWIUT Office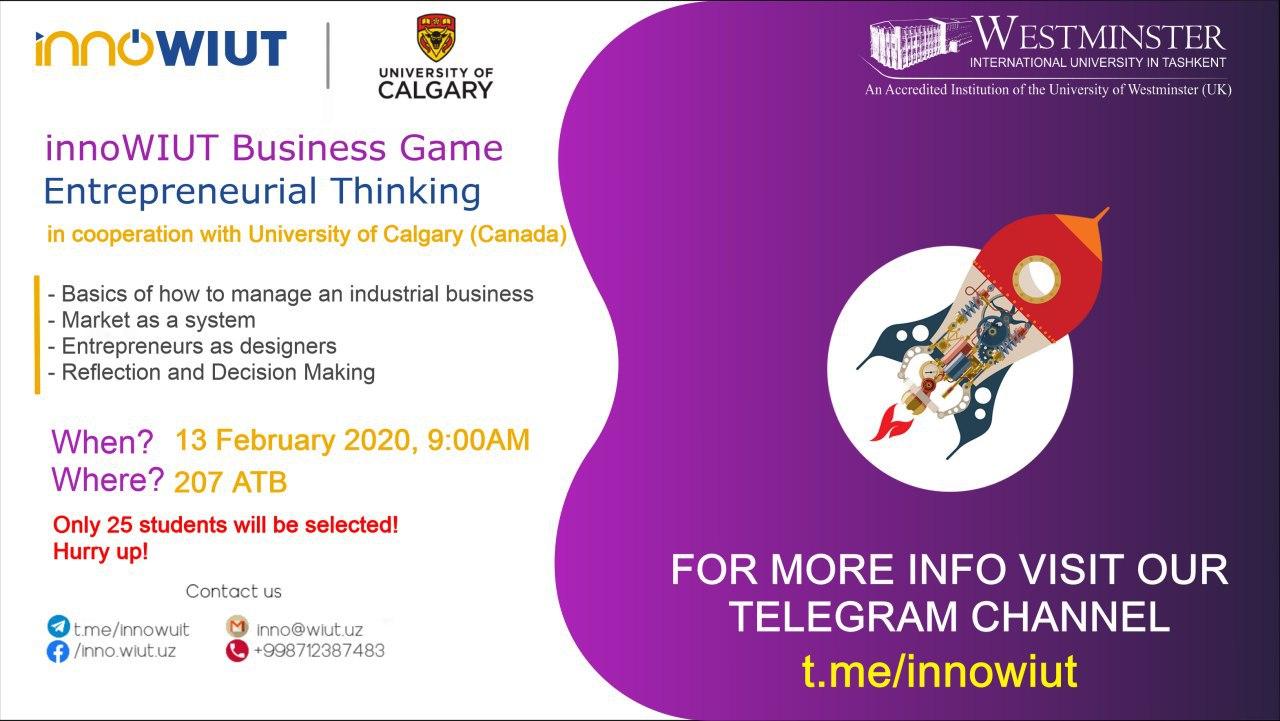 #innoPITCH 1.0 - TUZ Ventures
Are you looking for an investment for your startup project?

UZVCA (Uzbekistan Venture Capital Association) in partnership with Westminster International University in Tashkent organizing pitch day for potential projects.

"TUZ Ventures" - VC from Singapore is coming to look for potential projects.

Come to Pitch Day with TUZ Ventures:

DATE: 5 Feb, 2020
TIME: 9:00 - 15:00
VENUE: Westminster International University in Tashkent (Room: ATB-306)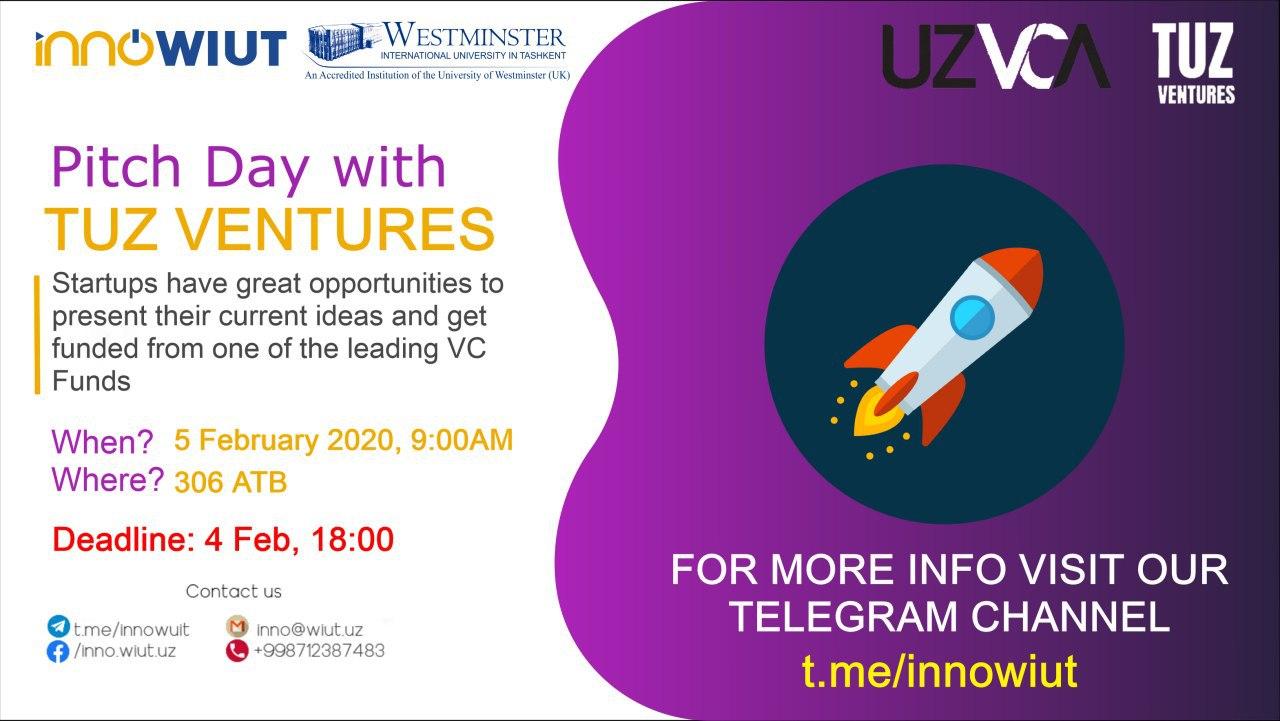 Forum on Green Finance and Investment 2020
Join us virtually from 6-9 October for the annual flagship Forum of the OECD Centre on Green Finance and Investment, gathering senior policy makers and leading public and private actors from around the world for action-oriented discussions to advance the global sustainable finance and investment agenda.
Find out more and register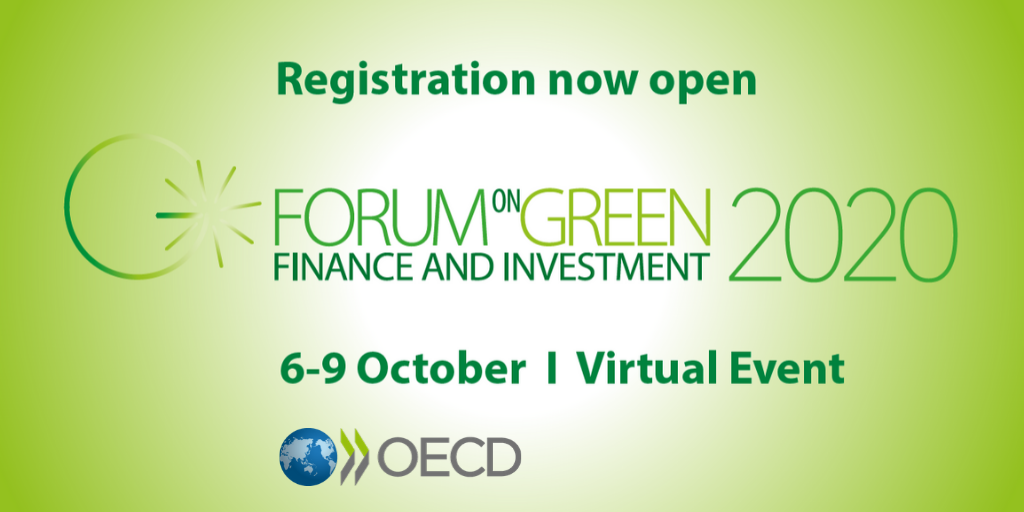 Contact us directly!
Contact Us
Feel free to contact us if you have any questions